Sunday
Monday
Tuesday
Wednesday
Thursday
Friday
Saturday
Early

Book Classes

Abbie Fisher
6am Vinyasa Flow
Terry Gold
6:45am Hatha
Abbie Fisher
6am Vinyasa Flow
Terry Gold
6:45am Hatha
Early
9:oo
Daniel Todd
Slow Flow with Deep Stretch
9:00
9:15
Danielle Thornton
Slow Flow with Deep Stretch
Molly Knochel
Slow Flow with Deep Stretch
Danielle Thornton
Slow Flow with Deep Stretch
Molly Knochel
Slow Flow with Deep Stretch

9:15
10:30
Jenny Parum
Vinyasa
Erica White
Baby & Belly

Jenny Parum
Vinyasa
10:30
12:00
Jenny Parum
Deep Stretch
Jenny Parum
Hatha
Rebecca Buchanan
Hatha
Jenny Parum
Deep Stretch
Jenny Parum
Hatha
Beginner
Jenny Parum
Hatha
12:00
1:30
1:30
5:00
Daniel Todd
Slow Flow with Deep Stretch

Erica White
5:30pm Baby & Belly
5:00
6:00
Katherine Kunze Vinyasa Flow
Daniel Todd
Deep Stretch
Katherine Kunze
Vinyasa Flow

Bethany Dotson
West Coast Flow
6:00
7:15
Daniel Todd
Restorative
De'Andre Sinette
Vinyasa Flow
Bethany Dotson
Deep Stretch
Jenny Parum
Hatha
Max and Liz
7pm acromovement
(all levels)

7:15
8:30
Max and Liz
acromovement
(all levels)
8:30
acromovement
Deep Stretch
Hatha Yoga
Restorative
This partner practice develops communication, trust, strength and stability in the air. Hone your skills in this structured class to learn to flow into transitions with grace and style! Come solo or bring a partner.
All Level class .

This yin-inspired class focuses on deep release in the joints and tissues of the body. Postures are supported with props to encourage comfort and release, making the class ideal for athletes and still accessible to all levels, even the very beginner.
Known for meticulous alignment, detailed instruction, and the use of props, to feel, get the direction of the pose, then lengthen the breath and time in the pose. No music, listen to the music of our breath. A slow and controlled class with lots of corrections, verbal, as well as, (optional) hands-on.
Restorative; Release and receive. Trade obstacles in the mind and body for healing and balance: stress for calm, busy for stillness, anxiety for peace, and dis-ease for ease. Passive supported postures renew energy, bring balance, and deep relaxation. Appropriate for all levels. !
Slow Flow with Deep Stretch
Thai and Fly
Vinyasa Flow
West Coast Flow
Beginner friendly postures are mindfully sequenced with the breath to build heat and strength, followed by longer holds and active stretches to encourage release between body and mind.
Come take some time in the middle of the week to de-stress, recover, and relax! We will be teaching Thai massage and flying therapeutics. No partner necessary. Leave class feeling confident and ready to tackle the rest of your week.
Vinyasa means 'to place in a special way.' This thoughtful and creative class links breath with movement as you flow from one pose to the next. The smooth, continuous flow deepens breathing, increases endurance, balance and flexibility. If you are healthy you can do it.

Beginners Vinyasa Flow - This beginner flow class will teach alignment and structure giving new students a solid foundation.
An uplifting, alignment-based flow class with a message! Inspired by the incredible teachings and yoga community of Los Angeles, expect a full spectrum practice of vinyasa, strong standing postures, twists, folds, back bends and inversions. Classes are themed with a dharma talk or message to help you take your practice off your mat for a more empowered, authentic life
Baby and Belly
This class is open to both pregnant bellies and postpartum moms with babies!

Belly Mommies: Open to women in all stages of pregnancy and yoga experience, the class will focus on poses and techniques that can ease the common ailments of pregnancy to help prepare for childbirth.

Baby Mommies: Open to women who are feeling fine at 6 weeks postpartum. Mommies who had a Cesarean-section should wait a little longer—8 to 10 weeks; check with your doctor or midwife. Babies can begin any time, and tend to enjoy the class until they are up and moving. You are welcome to feed your baby (by breast or bottle) any time during class in the studio, and to change baby's diaper any time, too. Please bring a blanket for baby to lie on.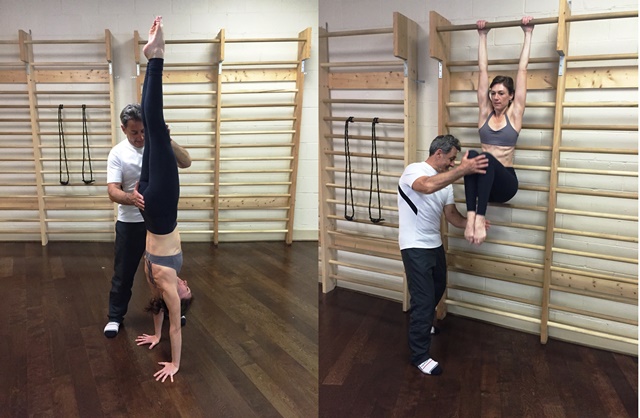 SOLD OUT! – next series in August Handstand Series – 4 Sessions The 4 week series will focus on awareness, flexibility and strength when upside down through working on the drills and mechanics needed to be
...
Continue Reading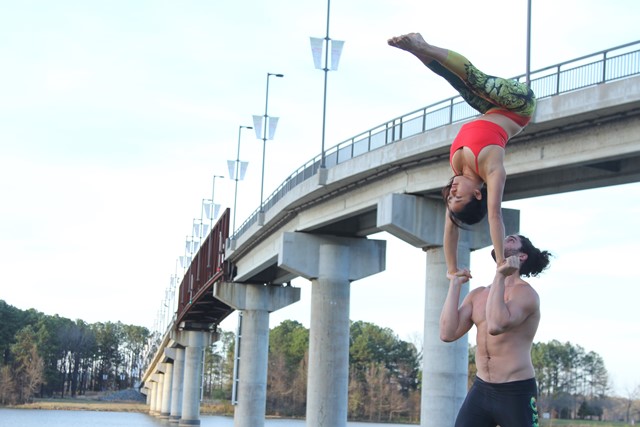 Reverse Hand-to-Hand Weekend Intensive Work on your handstand lines and stack it on another human! Max and Liz will be back in town with this special hand-to-hand weekend. Come build and refine your handstand and
...
Continue Reading
The Manifestation Workshop: You Are Enough Jen's Dallas workshops have all sold out very fast so please book asap as her last one in June sold out with a long wait list! This workshop is
...
Continue Reading