Sunday

Monday

Tuesday

Wednesday

Thursday

Friday

Saturday

Early

Book Classes

Terry Gold
6:45am Hatha
Terry Gold
6:45am Hatha
Early
9:00
Jenny Parum
Vinyasa Flow
Elizabeth Pierce
Vinyasa Flow
Stacey James
8:45am Ashtanga
Led Primary
9:00
10:00
Stephanie Young
Yoga Power
10:00
10:30
Jenny Parum
Vinyasa Flow
10:30
12:00
Jenny Parum
Deep Stretch
Vanessa Palavicini
Vinyasa Flow
Vanessa Palavicini
Vinyasa Flow
Jenny Parum
Deep Stretch
Vanessa Palavicini
Vinyasa Flow
Elizabeth Pierce
Vinyasa Flow
Brian Johnson
Primal Movement
12:00
1:30
Erin Brandao
Beginners Vinyasa
4:30
Stephanie Young Yoga Power
4:30
5:00
Jenny Parum
Vinyasa Flow
5:00
5:30
Stephanie Young
Yoga Power
Stephanie Young
Yoga Power
Stephanie Young
Yoga Power
Stephanie Young
Yoga Power
5:30
7:00
Neil Patel
Vinyasa Flow
Shelley Cook
Vinyasa Flow
Neil Patel
Beginners
Vinyasa Flow
Emilee Bowen
Vinyasa Flow
AcroMovement
Toyah Thomson
7:00
8:30
Brittney Johnson
$8 at 8:30
Vinyasa Flow
8:30
| Ashtanga Led Primary | AcroMovement | Deep Stretch | Hatha Yoga |
| --- | --- | --- | --- |
| Intended to be a daily practice this powerful, healing practice is a specific sequence of postures (asanas) linking breath (pranayama) and movement (vinyasa.) Ashtanga is an athletic flow combining strength, flexibility and stamina for a complete practice. | This partner practice develops communication, trust, strength and stability in the air. Hone your skills in this structured class to learn to flow into transitions with grace and style! Come solo or bring a partner. | This yin-inspired class focuses on deep release in the joints and tissues of the body. Postures are supported with props to encourage comfort and release, making the class ideal for athletes and still accessible to all levels, even the very beginner. | Known for meticulous alignment, detailed instruction, and the use of props, to feel, get the direction of the pose, then lengthen the breath and time in the pose. No music, listen to the music of our breath. A slow and controlled class with lots of corrections, verbal, as well as, (optional) hands-on. |
Kids Yoga

Primal Movement

Vinyasa Flow

Yoga Power

Through playful expression, kids explore breath, strength, balance, and flexibility in a non-competitive environment to cultivate gratitude, teamwork, and self awareness. We use songs, rhymes, and stories to learn kid-friendly yoga poses, including a brief resting pose to finish class. For kids 4 to 9 years
Primal Movement will take you back to the foundations of human movement patterns ultimately allowing you to increase your overall movement potential for any practice! Be prepared to engage in a full body workout like you've never experienced before while rediscovering how to jump, roll, squat, push, pull and twist your way to greater strength, mobility and balance, all while having fun!

Can you survive?
Vinyasa means 'to place in a special way.' This thoughtful and creative class links breath with movement as you flow from one pose to the next. The smooth, continuous flow deepens breathing, increases endurance, balance and flexibility. If you are healthy you can do it.

Beginners Vinyasa Flow - This beginner flow class will teach alignment and structure giving new students a solid foundation.
Yoga Power is a flowing meditation-in-movement held together by the thread of the breath. Body postures are linked together in constant, controlled activity. Combined with the breath, a heightened energy level is created. As the body tones into maximum fitness, an awareness of the connection between mind and body brings about balance, inside and out.
August – November 2014
Nick is an aerial and partner acrobatics expert and will be guest teaching the Friday night class. Instructor Bio: Nick started his Acrobatic career as a Tandem Surfer, training under world champion Bear Woznick in
...
Continue Reading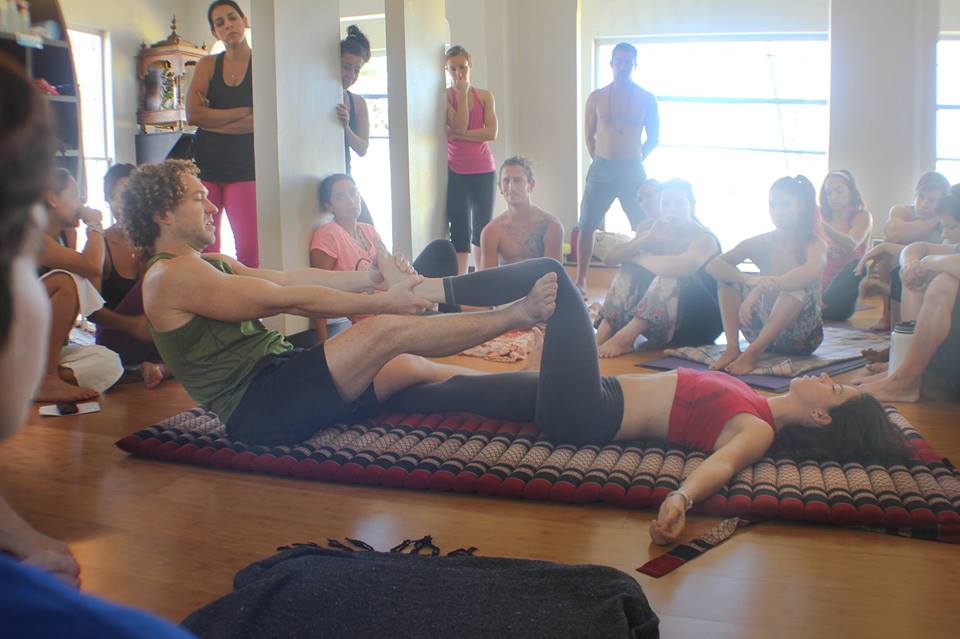 Give your body and being the gift of learning to give and receive, immersed in the world of yoga, flying therapeutics, Thai massage and other bodywork modalities. Harness the power of gravity and explore new
...
Continue Reading
This workshop is NOT your typical yoga workshop nor is it about the asana (poses.) It's about being human. It's about letting go of fear. Join Jen Pastiloff, from Los Angeles, in her signature Manifestation
...
Continue Reading